Latitude 24
Located in the heart of the hotel and surrounded by breathtaking views of hillsides and waterfall gardens, Latitude 24 lets guests indulge in selections of sweets, and homemade snacks, a range of exceptional wines and exquisite beers, sophisticated and creative cocktails. Afternoon tea is served daily between 3pm and 5:30pm, while a lavish selection of exquisite champagnes by the glass allows for a celebratory toast for any occasion. Live entertainment with a strong focus on jazz is offered every evening.
A friendly and open-minded staff with an entertaining, personal touch and high level of knowledge on all aspects of the beverage list and snack menu is prepared to serve you at Latitude 24.
| | |
| --- | --- |
| Cuisine: | Snacks |
| Dress Code: | Casual |
| Parking: | Parking is included with purchase |
| Hours: | 10:00AM - 11:30PM |
| Live Entertainment: | 9:15PM - 11:15PM (Except Monday) |
| Setting: | Contemporary |
| Phone: | 86 592 770 9176 |
| Serving Style: | Coffee and cocktail lounge |
| Smoking Permitted: | Yes(Outdoor seating) |
Weekday Afternoon Tea
Monday to Firday 12:00 to 18:00
10 selections of Tuna sandwich and salmon sandwiches, coconut milk egg and fruit tart, Éclairs...etc.
Choice of Fresh ground coffee, tea, milk, juice
CNY 108 per person
Weekend Buffet Afternoon Tea
Saturday to Sunday 15:00 to 17:30
A wire selection of Sweets and savory items.
Choice of Fresh ground coffee, tea, milk, juice
CNY 108 per person
Live Entertainment
Tuesday to Sunday 21:15 to 23:15
Recommended Drinks
Cold Mocha
Pour inside of tumbler glass chocolate coulis to design the decoration. Add the cold milk and after the cold coffee.Fill the glass with cold milk foam and decorate with chocolate coulis on top of it and serve.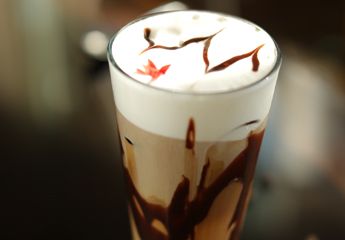 Royal Mojito
Lightly muddle some of the mint, just to bruise, inside glass. Add Diplomatico rum, lemon juice and sugar syrup. Fill half of the glass with ice and stir with bar spoon.Add more mint leaves, more ice and fill with Moet Chandon Chanpagne until the top of the glass and stir again. Decorate with some lime slices and mint leaves and serve with straw.
After Eight
Pour the Sarklass mint syrup,Sarklass chocolate syrup and olmeca
gold tequilla inside of the shaker with ice cubes and shake it very well.
In the other glass prepare the fresh milk foam. Add the preparation into cold
Martini glass and pour the milk foam, very slowly to do not mix, on
top of it. Decorate the cocktail with orgeat & pistachio cokie with some
chocolate coulis and flower.Add chocolate powder in half of the glass and serve.
Mai Tai
Add all the ingredients inside of the shaker with ice cubes. Shake it
well and pour inside of the Tiki glass with red light cube.At the
end pour a dash of Jerry thomas angostura and decorate the coctkail with mint
and dry sweet orange slices and serve.
Winter Drinks
Latitude 24 now offer Winter Drinks to warm your heart
Drinks includes,
Gluehwein CNY58/cup
Eggnog CNY58/cup
Chocolate Snowcap CNY48/cup
Rose Scented Tea CNY48/cup